Playfulbet has ceased its operations

MoneyMakerLand

June 02, 2020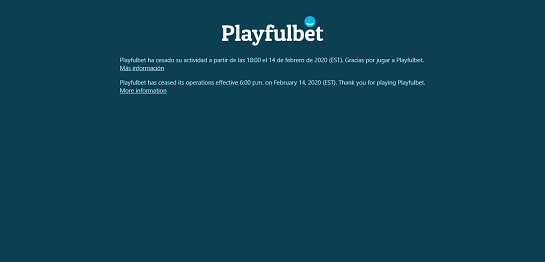 Reading time: 2 mins
T
he new was sudden and took everyone by surprise: Playfulbet has ceased its activity.
By visiting the Playfulbet website an announcement is shown that leaves no room for doubt "Playfulbet has ceased its operations effective 6:00 pm on February 14, 2020 (EST). Thank you for playing Playfulbet".
There is a link for more information that refers to a post published on the official Twitter profile of Playfulbet which says verbatim:
"This adventure started rolling many springs ago, more specifically at the end of a distant 2012.
It would be practically impossible to count all the bets made since then, the bets won, the goals at the last minute, the correct odds, the coupons exchanged, the prizes awarded ... and we say "practically" because it is NOT impossible! And in fact here we have them:
- 987,345,231 bets placed!
- 534,284,178 bets won
- 1,345 goals in the 90th minute that changed a bet
- 45,632 successful pools
- 892,567 coupons redeemed
- and more than 192,255 prizes awarded!
But it all ends and we have to say goodbye. With a lump in the throat, but at the same time proud of an adventure shared with you and you.
An adventure of effort, work, difficulties, but also smiles and many happy moments. And there has been nothing greater than enjoying the unforgettable journey with you, with the 9,331,286 users who have participated in this.
Therefore, we can only be eternally grateful for having turned an idea into what Playfullbet has become, we will never forget you. Thank you.
The website will be active until 02-14-2020 at 6:00 p.m. (Spanish time). From that date, the web and apps will be inaccessible".
With Playfulbet, one of the most popular free sports betting portals ever goes away.
Sin.