Ciao.it website stopped paying

MoneyMakerLand

December 19, 2017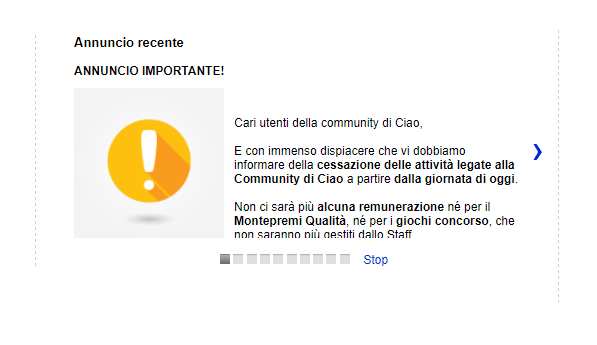 Reading time: 1 mins
G
ood evening to all and welcome back to GetMyRefs.
First of all, I take this opportunity to ask you: do you like this Christmas version of GetMyRefs? The hat on the logo and the snow that falls bring serenity!
But now we return to the most serious reason for which I am writing in this blog:
Ciao.it
will no longer pays its users for every opinion expressed.
This is the official announcement appeared on the Ciao.it website:
Hello community users,
It is with immense regret that we must inform you about the cessation of activities related to the Hello Community starting today.
There will no longer be any remuneration either for the Quality Prize Pool, or for the competition games, which will no longer be managed by the Staff.
From 1st December 2017 Ciao.it is no longer a business that allows you to earn online and, indeed, the advice of GetMyRefs is to withdraw the money you have earned while it's still active the opportunity to withdrawal.
Sorry to inform you of this because Ciao.it was one of the very first sites to which I registered and, one of the few, that I continued to follow even when there was Guadagnolandia.
Okay, let's put a stone on it and for every door that closes, there is always another door that opens!
Good evening.
Piero